Add your review
Robomow RK3000 Pro Mowing Robot
Description
Robomow RK 1000 looks after your garden

The RK1000 is here to create a lawn to match any occasion. Its ability to cut right to the edge as well as a patented cutting system ensures your lawn will be the centre of attention. It is suited for medium gardens up to 1.000 m². 
With a large battery capacity, this robot can mow for 50 to 60 minutes continuously before it returns to its charging station to recharge. Compared to previous models, the RK 1000 has renewed blades. These cutting blades ensure an even smoother and smoother lawn. The floating deck ensures an evenly cut lawn. You can now choose a cutting height of 20-100 millimeters.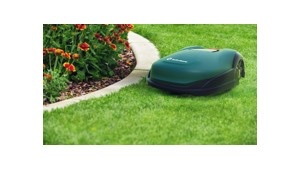 As you have come to expect from Robomow, this mower is also equipped with edge mowing technology. The blades mow outside the wheels. The cutting area is bounded by a wire with light electrical voltage running through it. This way Robomow knows where to do its job. The great advantage of this edge cutting technology is you can easier maintain your garden without cutting this wire.
Of course, this Robomow is also alert to its surroundings. An omnidirectional detection system informs the robot if something comes in its path. And he will respond to that immediately.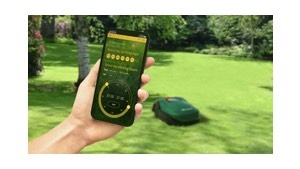 Using the app

With the help of a handy app you can set up the Robomow RK 1000 and if you use Alexa for your home automation, she also can control your mowing robot. For this purpose, this robot is equipped with RoboConnect voice control.
Control the app:
Return to base station
Set mowing times
Control zones, up to 4 sub-zones, 2 separate zones
Notifications:
Charging notifications
Departure times
Operational and security alerts (optional)
Optional: security notification 5 minutes before automatic departure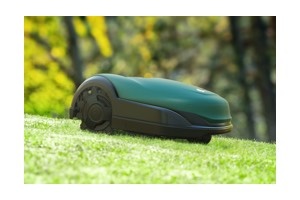 45 percent slopes
Patented high traction all-terrain wheels and the whole new body of this machine ensure that Robomow RK 1000 can handle a slope of 45 percent. This is an improvement over older Robomow models. 

Three year warranty

Robomow gives a 3-year warranty on the RK series.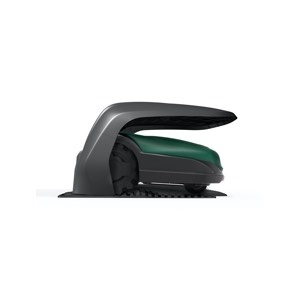 Robohome

Optionally, you can purchase a luxury addition to your base station for this mower. The Robohome provides more protection against harsh weather conditions. 

Robomow RK 1000 Technical specifications:
| | |
| --- | --- |
| Cutting width | 21 cm |
| Cutting height | 20-100 mm |
| Sub-zones/starting points | 4 |
| Separated zones | 2 |
| Mowing motor | DC brushless |
| Drive motor | DC brushless |
| Max. slope of the mowing area | 45% (24 grade) |
| Max. slope of the wire | 20% |
| Noise level(dB) | Under 60 dB |
| Maaitijd (min) | 50-60 minuten |
| Laadtijd (min) | 60-120 minuten |
| Type battery | Li-ion |
| Battery capacity | 2,8 |
| Energy consumption(kWh/mnd) | 2,8 |
| UI (touchscreen) | 4,3 inch touchscreen |
| Theft protection | ja |
| Mowing schedule | ja |
| Floating deck | ja |
| Bleutooth (BLE*) | ja |
| Follow near the wire (MBLE/IR**) | ja |
| Robohome | niet meegeleverd te koop als accessoire |
| Warranty | 3 years + 1 year extra after registration. |
* Bluetooth Low Energy
** Bluetooth Low Energy/Infra Rood
In the box:
| | |
| --- | --- |
|   |   |
| Robomow RK 1000 |     1 Pcs |
| Base station |     1 Pcs |
| Pins used for base station |     4 Pcs |
| Perimeter wire | 225 meters |
| Adaptor |     1 Pcs |
| Cable for adaptor |   15 meters |
| Pegs | 300 Pcs |
| Extra connector |     2 Pcs |
| Wire connectors |     2 Pcs |
| User Manuel |     1 Pcs |
| Tools |   |
| Roboruler |     1 Pcs |
|   |   |