Add your review
Roomba i7+
iRobot® Roomba® 980
Vacuum Cleaning Robot

The new Roomba 980 gives you cleaner floors, throughout your entire home, all at the push of a button. Roomba 980 seamlessly navigates an entire level of your home, keeping track of its location and rechargin Read more
Description
Roomba® i7+
No need to think about vacuuming for weeks at a time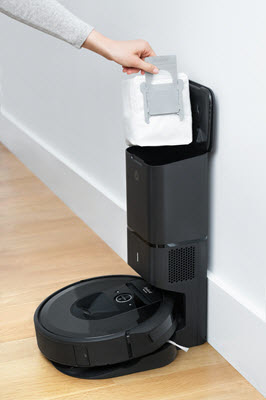 Clean Base™ automatic dirt disposal bin
The Roomba i7+ is a robot that emoties its own, so you don't have to think about vaccuuming for weeks at a time. The Clean Base Automatic Disposal, holdes about 30 bins.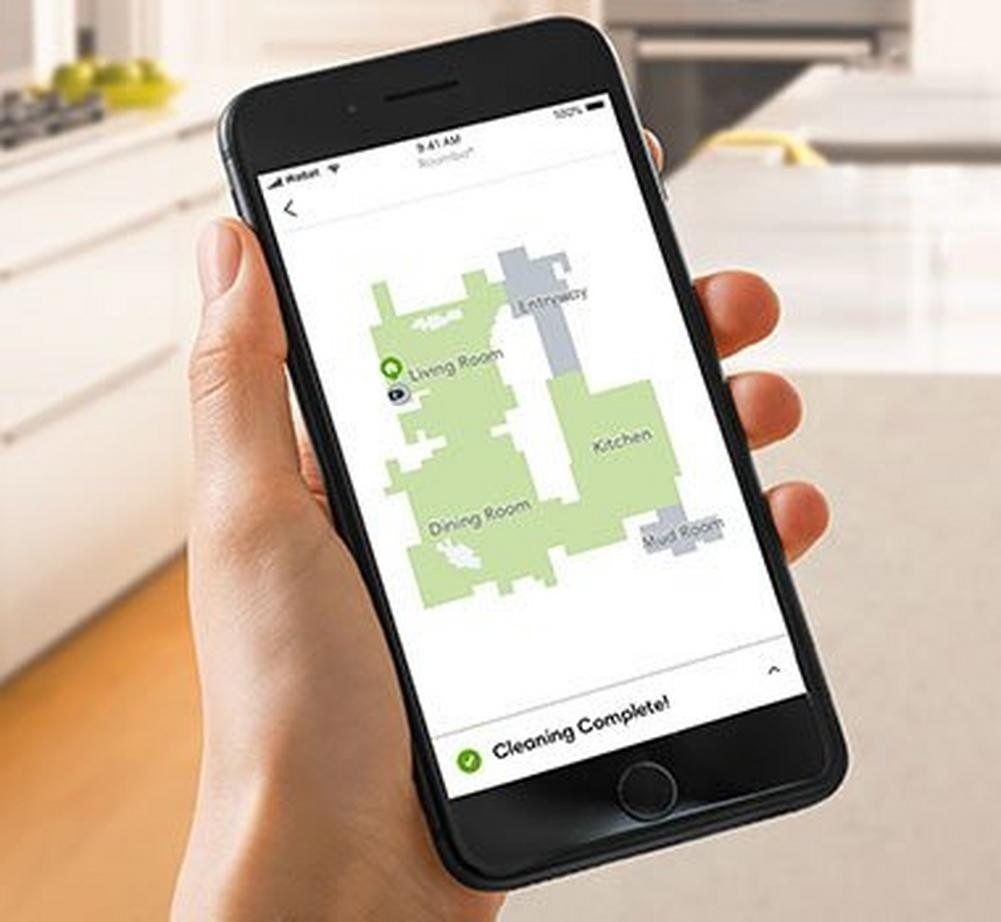 Imprint™ Smart Mapping
The Roomba® i7 robot vacuum learns your home, and knows your bedroom from your living room, giving you total control to choose which rooms are cleaned and when.
You can even specify where the Roomba® i7 should clean using Alexa devices and the Google Assistant. * Enable Smart Maps in the iRobot HOME App to use these features.
*Amazon, Echo, Alexa and all associated logos are trademarks of Amazon.com, Inc. Or her allied companies. Google Home is a trademark of Google LLC.

Designed with your pets in mind.
Does your pet shed a lot? Roomba® i7 can handle it. Cats that take litter around the house? The i7 is smart enough to find the granules and vacuum them up completely. The advanced filtration system captures 99% mold, pollen, dust mites and dog and cat allergens to keep dander out of your life. Even the dual multi-surface rubber brushes are made with pet hair in mind: unlike bristles, they won't get tangled in the hair. Our robots are packed with features from carpets to hard floors that make cleaning up your pets' mess easy, so you can spend more time with your furry friends and less time cleaning up their mes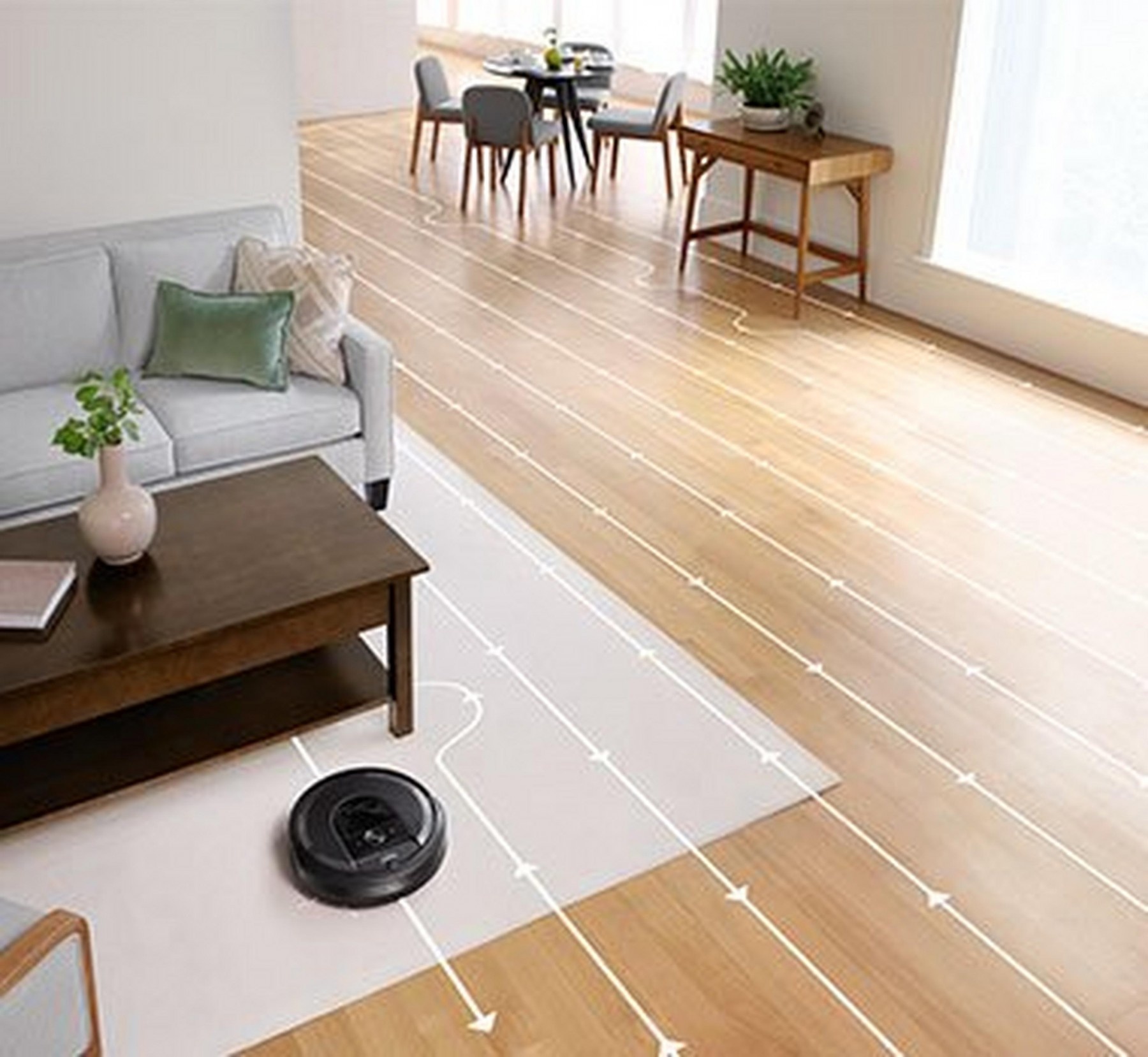 Guided by serious smart
iAdapt® 3.0-navigatie met vSLAM®-technology helps the Roomba® robot seamlessly and efficiently navigate your home. The robot creates visual landmarks to keep track of where it's been and where it has yet to clean.

Dual Multi-Surface Rubber Brushes
Dual Multi-brushes keep constant contact with the floors they love.
Each Brush is uniquely designed with rubber treads that stay in constant contact with different floor surfaces -from hard floors to carpets- adjusting and flexing, to get everything from small particles like dus and dirt, to hair and large debris.

Additional features:
The Edge-Sweeping Brush is specially designed at a 27-degree angle to sweep debris away from edges and corners to be suctioned off your floors.

Lithium Ion battery, runs for up to 90 minutes before the robot automatically docks to recharge

New washable dust bin design allows you to simply rinse away dirt or debris left behind.
Dual Mode Virtual Wall® Barriers give you greater control over where your robot cleans. Virtual Wall® Mode keeps your robot in the rooms you want cleaned and out of the ones you don't. Halo Mode keeps your robot away from items you want it to avoid.

Cliff Detect sensors prevent the robot from falling down stairs or tumbling over drop-offs.
Specifications
| | |
| --- | --- |
| Navigation | Multiple room, Camera + iAdapt |
| Shape | 35,5cm round and 9,2cm high |
| Timer | 7-day timer |
| Remote | WiFi (IR optional) |
| Color | Black/Gray |
| SKU | #i755840+ |